If you follow me on twitter or know me in person you will know that i'm heading up to lake Windermere for 3 days with Streetgames who are a massive organisation that are involved in helping volunteers get the best out of their community. I've been to this event once before and it was the best 3 days of my year. I meet some of the best people from all over the UK and got to spend time with a lot of different people. Anyways I thought I would show you what type of clothes i'll be taking away with me. I'm hopefully going to do a what is in my wash bag as well. So here are the clothes that i'll be taking away with for 3 days.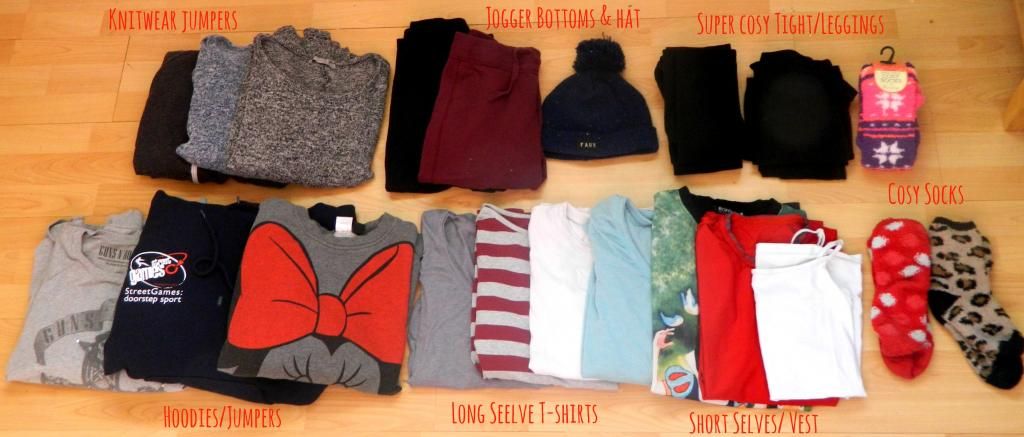 Most my clothes for the 3 days (I know what your thinking that is tones for 3 days, Just let me explain)
I'm going to explain each section and give you links if I can get them.
Knitwear Jumpers: I have only 2 knitwear jumper in the pile with a hoodie underneath but on to the jumpers, I've had these jumpers that are from Primark for about a year as they just haven't seemed to lost shape. I have a blue one and grey one there both a marl pattern to them, I'm mainly taking these away for the night time when we have free time and get to just be lazy.
Jogger Bottoms & Hat: I really have 3 pairs of pants but i'm wear one on the mini bus so there is a different bag but these 2 jogger bottoms are again from Primark (seeing a pattern here) I have so many pair of these trousers because being a sport coach you need endless pairs plus when running around with kids clothes get wrecked and this week will be no different and at £7 you don't mind them getting dirty.
This hat is my baby, I live in this hat all year round and when we got advised to take a hat. I knew this baby was coming with me, I'm not 100% sure where it's from as it was my sisters who said I could have it. We will be needing a hat as it going to be cold plus we are going to be doing outdoor activities so it good that i'm taking a hat with me.
Super Cosy Tights/ Leggings: If you don't know about these tight then I don't know where you have been, again these are from Primark and are mainly going to be used to put under my joggers just as another of layer to keep me warm.
Cosy Socks: Same as the tights these are them Primark gems that i'm always going back and re-buying them over and over again. These are to put on with my trainers to keep my feet what more could you want from socks.
Short Sleeves/ Vest Tops: This is where the none Primark items come in. I have got my snow white cat face t-shirt from Romwe which i'm in love with. I also have this Red Pro Fit Nike Top which I've had for years as I've used it for playing sports and coaching in the cold so I know this top will work well when i'm away. Lastly I have a plain white vest top from Primark again this is just throw on on a night or under a jumper on the way.
Long sleeve T-shirt: All 4 of these tops are Primark, there either V necks or round necks. I'm basically taking these because there have long sleeves and they should keep me warm. I wear these all the way through A/W when i'm coaching as it just the best thing to wear when your teaching kids how to kick a football in the cold.
Hoodies/Jumpers: Final section of clothes and this is a mix of a hoodie and jumpers. The hoodie that is in the middle is my coaching jumper that I got from StreetGames and wear to most of my coaching sessions and basically live in tbh. I also have my guns and roses jumper from Primark which is about a year old again (see the pattern of Primark and year old items )and also have my Minnie Mouse jumper from Forever 21 (similar Here), I got this when I went to London in August.
As you can see most of the things i'm taking away are from Primark, these main reason for this is because there basics that are cheap so if they get damaged when I'm away there easy enough to replace. Also I am taking underwear and all the other stuff but didn't think you would want to see all that stuff.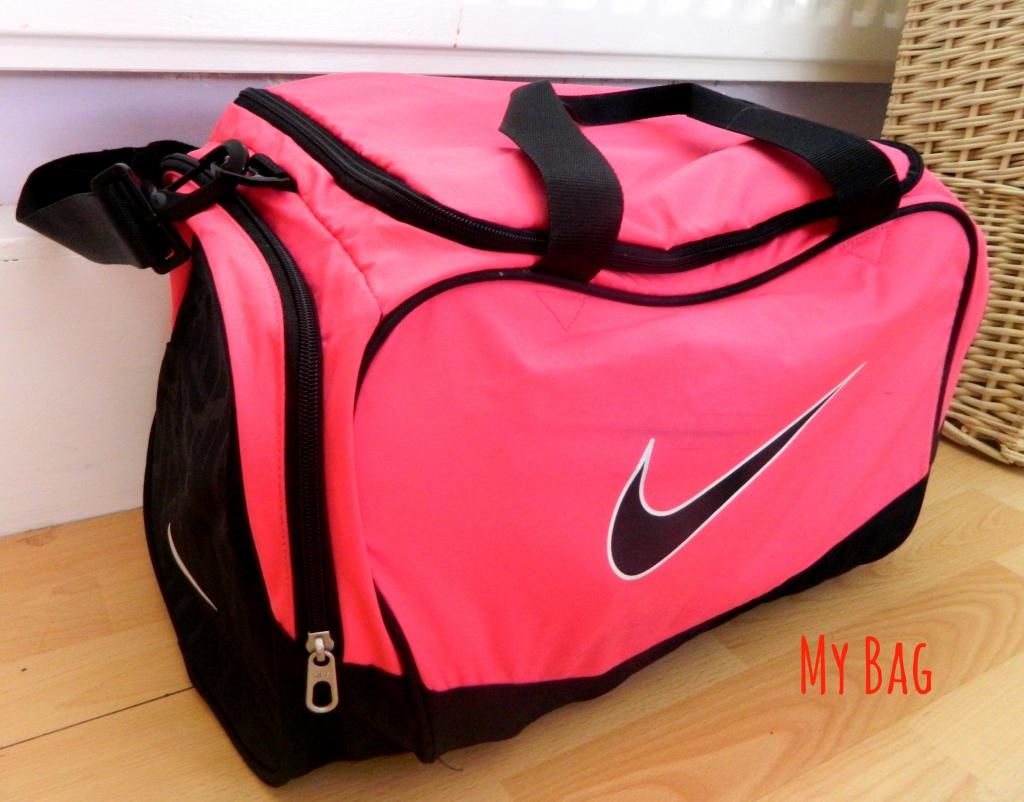 Pink Nike Small Duffle Grip Bag
Bag: This is my Nike duffle bag, I thought I would show you my bag that everything is going in. This was my sister bag but I had one similar and these bags are worth the money for £20 I must have used this every time I've gone away and most likely be buying the bigger version for when I hopefully go to america.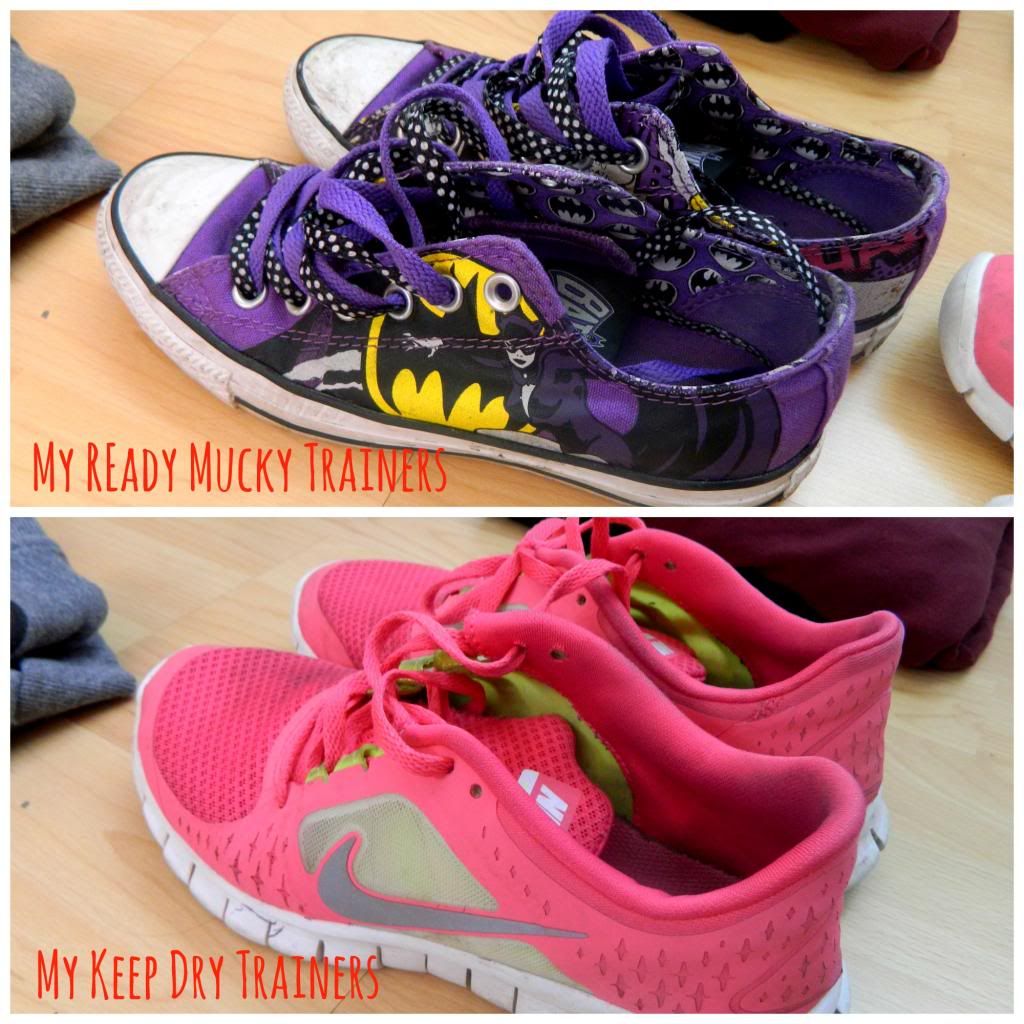 Batman Converse / Nike Running Shoes (Similar Here)
My Ready To Get Mucky Trainers: These are my adorable Batman Converse, I'm taking these away with me as I don't mind getting these dirty and there basically wrecked anyways so I don't see why I can't wreck them a little bit more.
My Keep Dry Trainers: If you followed my tumblr blog then you would have seen these little beauties a number of times. I got these from the kids section in start fitness and never regretted buying. That why i'm going to be wearing these on the night times and when we are doing group work as I don't want them to get to dirty.
Anyways that is my what's in my bag: Activity week in the lakes, I hope you enjoyed this type of post. I'm going away again in December for my birthday so if you like this post please leave me a comment or why not just tell me what you think I've missed out on.