You can most likely tell from the blog title what this post is all about.
I haven't done a motivational Monday in a while but instead of doing a normal kind of post I thought I would talk about my mission to be able to run 5k. If you have read my very first posts you will know that I'm not a very good runner at all and never have been.
I'm using the app Change for Life: Couch to 5k to reach my goal. If you live in the UK you will know fine well what the change for life scheme is all about and this app is part of a large scheme to get people doing exercise and the app is free which is a bonus.
Anyways on to my progress, I've done the first week of the training doing 2 days out of 3 as I didn't have time to do the 3rd within the week. The week was made up of runs that involved with a brisk 5 minute warm up walk, then you alternate between 1 minutes runs and 90 second walks at a brisk pace. The run is a total of 20 minutes not including you cool down.
I did the first run on the treadmill at the gym and ran at the pace of 7 and walked at the pace 6.5 as I wasn't sure how I would do and thought this was a good starting point.
The second run I did with my dog out on her walk as I knew she would be to run for a minute and walk for that amount of time that was needed. It was freezing so I was well wrapped up. The run felt a lot different compared to the first run I did earlier in the week, I don't know if it was because my pacing was different or because I hadn't ran outside for a long time.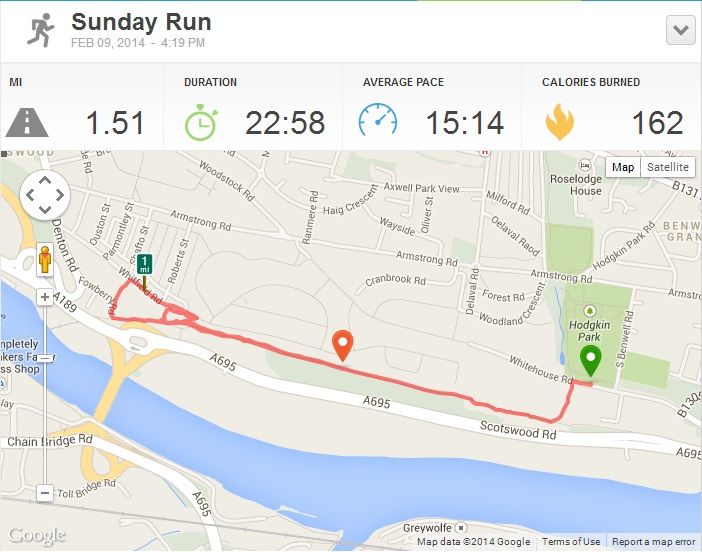 This was the route that we took the red arrow is where the run finished after the cool down. I used the app RunKeeper to record this as I always think it good to see the distance and the details of the race which the app does when your out there doing your stuff. I loved running this route as it was quiet and was totally new to me I had never seen it before. It was really close to my house so it's nice to have a close local route.
I know this wasn't much of a motivational Monday post but it's me trying to motivate myself to keep going for 9 weeks to hit this mission.
Hope you enjoy reading this post